The Expert's Guide to Finding the Perfect Dentist Near You in Pittsburg and Brentwood
The Expert's Guide to Finding the Perfect Dentist Near You in Pittsburg and Brentwood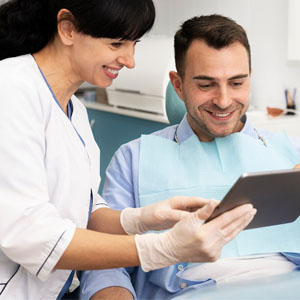 Finding the perfect dentist near me in Pittsburg is a crucial decision for your oral health. Your dentist is your partner in maintaining a healthy and beautiful smile, and it's important to choose one who meets your specific needs and preferences. In this expert guide, we'll walk you through the steps to find the ideal dentist in these California cities.
Finding Your Ideal Dentist: 10 Key Steps for a Confident Smile
Ask for Recommendations:

A great way to start your search for the perfect dentist is by asking friends, family, and coworkers for recommendations. People you trust can provide valuable insights into their experiences with a local dentist in Pittsburg. Pay attention to their feedback regarding the dentist's expertise, bedside manner, and the overall atmosphere of the dental practice. The more recommendations you receive for a particular dentist, the more likely it is that they provide excellent care.

Check Online Reviews:

Online reviews are a valuable resource for assessing the reputation of a dentist in Brentwood. Websites like Google, Yelp, and Healthgrades offer a platform for patients to share their experiences. Analyze the reviews for trends, taking note of both the good and negative comments. Keep in mind that no one is perfect, but a consistent pattern of positive reviews is a good sign. Additionally, consider the specific aspects of dental care that are important to you, such as pain management, patient comfort, or child-friendly services, and look for comments related to those.

Verify Qualifications and Experience:

Selecting a dentist with the appropriate training and expertise is crucial. Make sure your dentist is licensed and is a member of reputable dental associations. Check their website or contact their office to inquire about their educational background and years of experience. A seasoned dentist is more likely to provide top-quality care. Don't hesitate to ask about their continuing education and how they stay up-to-date with the latest advancements in dental techniques and technology.

Consider Specializations:

Depending on your specific oral health needs, you may require a dentist with specific specializations. Some dentists focus on general dentistry, while others specialize in areas such as cosmetic dentistry, orthodontics, or oral surgery. Determine your needs and look for a dentist with expertise in those areas. For example, if you're interested in improving the appearance of your smile, a cosmetic dentist with a portfolio of successful smile makeovers might be your best choice. If you have children, finding a family dentist who can provide comprehensive care for all age groups is ideal.

Visit the Dental Office:

Once you've narrowed down your options, schedule a visit to the dental office in Pittsburg. During your visit, assess the cleanliness and organization of the facility. Observe the behavior of the staff and how they interact with patients. A welcoming and comfortable atmosphere is crucial for your overall experience. Additionally, inquire about their infection control protocols and how they maintain a safe and hygienic environment for their patients. This will give you peace of mind knowing that you're in a safe and sanitary environment.

Evaluate Technology and Equipment:

Modern dental practices should be equipped with the latest technology and tools. Advanced equipment can enhance the accuracy and efficiency of dental procedures. Inquire about the technology and techniques used by the dentist to ensure you receive up-to-date and effective treatments. State-of-the-art equipment, like digital radiography, can reduce radiation exposure, and technologies such as CAD/CAM systems can enable same-day dental restorations, making your dental visits more convenient.

Assess the Location and Hours:

Consider the convenience of the dental office near me in Brentwood's location and operating hours. Pick a dentist whose office is close to your house or place of employment. Additionally, make sure their hours align with your schedule to avoid any inconvenience when scheduling appointments. Some dental practices even offer extended hours or weekend appointments, which can be particularly beneficial if you have a busy work schedule or family commitments.

Inquire about Payment Options:

Dental care can be expensive, and it's essential to discuss payment options with the dentist's office. Ask about the types of insurance they accept and whether they offer payment plans or financing. Making an informed choice will be easier if you are aware of the financial implications of your dental treatment. Don't hesitate to ask for a detailed estimate of the costs associated with your treatment plan and discuss available options for managing those expenses.

Schedule a Consultation:

Before committing to a long-term relationship with a dentist, schedule a consultation with a Dentist near me in Brentwood. This is an opportunity to meet the dentist in person, discuss your oral health goals, and ask any questions you may have. Pay attention to how well the dentist listens and communicates with you during this initial meeting. This is your chance to address any concerns or preferences you may have about your dental care, and a good dentist will take the time to ensure your comfort and understanding.

Trust Your Instincts:

Ultimately, trust your instincts when choosing the perfect dentist, as well as the right dental office in Brentwood. Your relationship with your dentist should be built on trust and confidence. If you feel uncomfortable or uneasy during your consultation or visits, it may be a sign to keep looking for a better fit. The dentist-patient relationship is an important one, and you should feel that your concerns are valued and that you can communicate openly about your oral health. It's essential to find a dentist who not only meets your clinical needs but also ensures your overall comfort and satisfaction.
Find Your Perfect Dentist Near Me in Pittsburg:
Your oral health is a crucial component of your overall well-being, and choosing the perfect dentist is a significant decision. By following these steps and taking the time to research and assess your options, you can find the dentist's office near you in Brentwood that not only meets your dental needs but also makes you feel comfortable and confident in your choice. Remember that your smile is worth the effort to find the perfect dentist near you.
Choosing the right dentist in Brentwood can make a significant difference in your oral health journey. Your dentist is your partner in maintaining healthy teeth and gums, addressing oral health issues, and achieving the smile you desire. Whether you're new to the Pittsburg area or simply looking to change your current dental provider, this expert guide will help you find the perfect dentist near you. By following these steps, you can make an informed decision and take a positive step toward a lifetime of healthy and beautiful smiles.
Call Dr. Ali Shirani today to schedule your consultation and take the first step towards excellent oral health and a beautiful smile. Dr. Shirani and his dedicated team are here to provide you with top-quality dental care in Pittsburg and Brentwood. Don't wait any longer; your perfect dentist is just a phone call away! Contact Dr. Ali Shirani at 925-778-1998 and start your journey to a healthier, happier smile.