If You Have a Family Dentist, Why Do You Still Need a Cosmetic Dentist?
If You Have a Family Dentist, Why Do You Still Need a Cosmetic Dentist?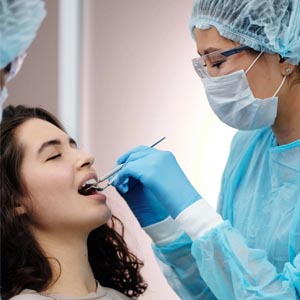 Family dentists are professionals who can almost solve every dental problem of yours. Isn't that what we understand about family dentistry in Pittsburg? If that is the case, do we still need a cosmetic dentist? Are the family dentists not skilled to handle your cosmetic dental issues? In a previous blog post, we discussed 5 cosmetic dentistry treatments for children by a pediatric dentist in Pittsburgh. However, in this blog post, we will explore the importance of having a cosmetic dentist even if you already have a family dentist.
Difference Between a Family Dentist and a Cosmetic Dentist:
While cosmetic dental treatment will focus on dental aesthetics and facial appearance, family dentistry in Brentwood will cater to your overall oral health and treatment of dental disorders. Hence, if any issue related to your dental aesthetics needs to be addressed, cosmetic dentists are the best ones to go. However, there can be a lot of pre, and post-treatments related to cosmetic procedures which need the attention of family dentists.
Even to understand if you are eligible for a certain cosmetic procedure based on overall oral health and dental history, it's the family dentist near me in Brentwood who will take a call for you. More so, there can be various cosmetic procedures packed with health benefits, though being treated with a cosmetic dentist. On the other side, a lot of cosmetic dentistry in Brentwood procedures are being executed by family dentists.
Cosmetic Dentistry vs. Family Dentistry for Aesthetics and Comprehensive Dental Care:
Cosmetic dentists typically address dental issues like teeth whitening, veneers, bonding, inlays, and onlays, etc. These also concern how your teeth will look.
Family dentists, on the other hand, address dental issues associated with dental pain, hygiene, discomfort, etc. These include sensitivity treatment, cavities treatment, fillings, root canals, extractions, braces, etc. Family dentists also treat periodontal issues, gum swelling, bleeding, etc. Alongside, cleaning, cancer screening, fitting mouthguards, etc. are also taken care of by family dentists.
Get the Best Family and Cosmetic Dentist for Your Dental Needs in Brentwood:
Both cosmetic dentists and a family dentist office near me in Brentwood are capable of addressing a range of dental issues. Despite tooth bonding being classified as a cosmetic procedure, it can also be performed by general dentists. In this treatment, a family dentist at a nearby office can skillfully apply resin to the cavity, effectively repairing a decayed or damaged tooth.
Dental bridges can serve as both a cosmetic procedure to enhance your smile and help in fixing your bite and shifting teeth, which falls under the expertise of family dentistry. Dental implants can be offered by both family and cosmetic dentists as they contribute to both aesthetics and functionality.
Teeth extraction, primarily a specialization of family dentistry, can also assist in improving your smile by replacing decayed teeth.
Therefore, for all these dental issues, you can rely on both a cosmetic dentist and a family dentist, such as Dr. Ali Shirani, to provide comprehensive care. However, if your primary focus is on enhancing dental aesthetics, cosmetic dentistry in Pittsburgh would be the suitable choice for you. For more information, browse through our website or call us at 925-778-1998 right away!