What is the Difference Between Endodontist & Periodontist?
What is the Difference Between Endodontist and Periodontist?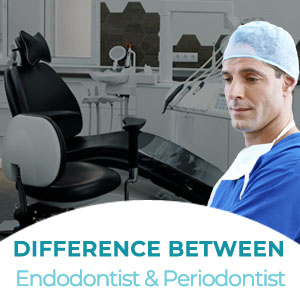 There are many dental specialists available to help one maintain your oral health. Having said that, not all dentists can perform all the dental treatments, especially when it comes to complex cases. An endodontist cannot offer treatments provided by a periodontist because they both specialize in different streams in dentistry. However, both these dental specialists possess expertise in their specific fields in dentistry. In our previous blog, we have explained How does a root canal treatment in Brentwood count as a dental emergency? Read on to discover more details which will enable you to differentiate between a periodontist and an endodontist.
Who is a Periodontist?
Periodontists work on gums and treat gum disease and aggravation associated with periodontal disease.
How to Become a Periodontist?
To become a periodontist, dental specialists need to finish a 3-year periodontics training after their initial dental study. During this period, periodontists learn about everything connected with gums, thus becoming experts in periodontal disease and tooth extraction in Brentwood. Towards the completion of their three years of dental education, periodontists in the USA need to give the last assessment as directed by the American Board of Periodontology.
Who Must Consult a Periodontist?
Periodontists likewise manage restorative dental implants and complex gum related disease after graduating.
Patients who experience problems like enlarged, retreating, or red gums and with periodontal disease in Brentwood would benefit from visiting a periodontist. Bad breath, gum disease, and infections are likewise significant signs that you ought to visit a periodontist.
What is an Endodontist In Brentwood?
An Endodontist Brentwood works on deep-rooted teeth issues such as root canal in Brentwood. In other words, endodontists treat the segments of teeth that aren't noticeable to the naked eye. Endodontists concentrate on dental pain inside and outside the tooth and help treat it. Endodontists focus on tooth roots like root canal and oral pain.
Endodontists are experts in teeth roots, and also help in tooth extraction if the tooth is cracked or damaged. Moreover, tooth issues can be restored with the help of an endodontist. In complex cases, an endodontist in Discovery Bay could try and successfully save the tooth of yours.
Why Would I Need a Dentist in Brentwood ?
In medicine, there is a group of subject matter experts and subspecialists to assist you. Dentistry is something very similar. You really want a whole group of dental specialists cooperating to guarantee that you have a sound mouth, teeth, and gums. Handpicking the appropriate dentist is pivotal. Choose the right dentist office near you in Brentwood, and get your teeth saved.
Which is the Best Dentist Office Near Me in Discovery Bay?
An easy way to look for the best dentist in your location is to search on the internet with the keywords "dentist office near me Discovery Bay". Dr. Ali Shirani whose clinic serves the locations of Discovery Bay, Pittsburg, Antioch, and Brentwood is the number one dentist near me in Discovery Bay.
Approach Dr. Ali Shirani to avail root canal in Discovery Bay or any other cosmetic or general dentistry procedures right away. Call us at 925-778-1998 to have a conversation with Dr. Ali Shirani right away.